Posts for tag: orthodontic treatment
By Central Park Dental and Orthodontics
March 27, 2018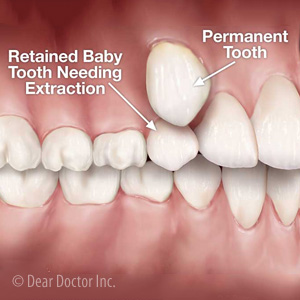 The primary goal of dental care is to preserve teeth. But there are circumstances in which removing a tooth, even a relatively healthy one, could prove best in the long run.
A malocclusion (poor bite) related to crowding might fit such a circumstance. Crowding occurs when the size of the jaw is too small for the teeth coming in. With not enough space, some teeth could erupt out of their proper positions. Removing certain teeth frees up space to eventually allow braces or other orthodontic devices to re-align the teeth.
The teeth most frequently removed are the first bicuspids, located between the cuspid (the "eyeteeth" directly under the eyes) and the back teeth, and the second premolar. Removing these won't normally affect appearance or functionality once orthodontic or cosmetic treatments are complete.
Because of the mechanics of jaw development it might be necessary to perform these extractions several years before orthodontic treatment. This could create another potential problem: the time lag could adversely affect bone health.
This is because bone, as living tissue, has a life cycle with cells forming, functioning and then dissolving, and new cells taking their place. When teeth are chewing or in contact with each other they generate force that travels through the tooth roots to the bone and stimulates cell growth at a healthy replacement rate.
But when a tooth is missing, so is this stimulation. This slows the replacement rate and eventually leads to decreased bone volume. Too much bone loss could create obstacles for orthodontic treatment or a future dental implant.
To avoid this, the dentist will often place a bone graft with processed bone mineral within the empty tooth socket right after extraction. The graft serves as a scaffold for bone cells to grow upon. The graft (plus any other added growth boosters) can help maintain a healthy level of bone volume to facilitate future orthodontic or restorative treatments.
Since targeted extraction for orthodontics is time-sensitive, you should have your child's bite evaluated by an orthodontist by age 7 to see if any action is necessary. The earlier a malocclusion is detected, the more likely a more attractive and healthy smile will be the ultimate outcome.
If you would like more information on correcting poor bites, please contact us or schedule an appointment for a consultation. You can also learn more about this topic by reading the Dear Doctor magazine article "Tooth Removal for Orthodontic Reasons."
By Central Park Dental and Orthodontics
February 17, 2018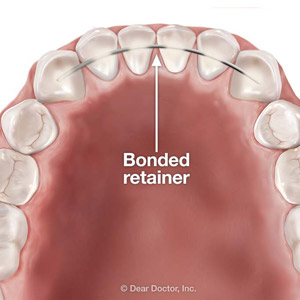 If you've known anyone who has worn braces, you know what comes after — wearing a retainer. This can be kind of a letdown after all those months with braces, but it's absolutely necessary.
That's because teeth have a tendency to "rebound" to their pre-orthodontic positions once the force to move them stops after the braces are removed. Retainers help keep or "retain" moved teeth in their new positions and prevent them from reverting to the old.
When you think "retainer," you probably picture a removable appliance with a wire that fits over the front of the teeth. While that may be the most common type, it isn't the only one. There's another called a bonded retainer, a thin piece of wire bonded to the back of the teeth that need to be retained. Unlike the other type, a dentist must remove a bonded retainer when it's no longer needed.
The biggest advantage of a bonded retainer is its invisibility — the wire is behind the teeth so no one can see it as with a removable retainer. The wire is bonded to the teeth with a dental composite material and then light-cured to create a strong attachment.
Another advantage is especially pertinent to younger patients. Because it's permanently attached and can't be taken out, there's no constant reminding of the patient to wear it — and no more worries about replacing a lost one.
They can, though, be difficult to floss around leading to potential plaque buildup that increases disease risk. It's very important you receive proper hygiene instruction for cleaning under the bonded retainer. Another concern is that they can break under excessive chewing pressure. And as with the more common retainer, we wouldn't want to remove it as that will result in the teeth's relapse to their old positions.
To learn which retainer is best for your situation, you should discuss the options with your orthodontist. Regardless of which type you choose, though, a retainer is a must for protecting your investment in that new smile.
If you would like more information on orthodontics and retainers, please contact us or schedule an appointment for a consultation. You can also learn more about this topic by reading the Dear Doctor magazine article "Bonded Retainers."
By Central Park Dental and Orthodontics
February 02, 2018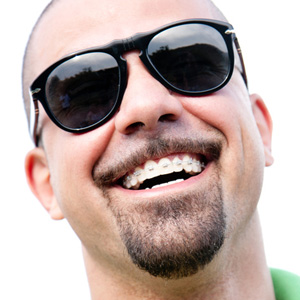 For whatever reason, you've put off replacing a missing tooth for awhile. Now you want to fill that empty gap in your smile with a dental implant restoration.
But if your tooth's been missing for a long time, there could be a problem with space. This is because the teeth on either side of the space may have gradually drifted into it, leaving no room for the implant. You could need orthodontic work first to return these teeth to their proper position.
We could use braces, metal orthodontic devices with wires threaded through brackets bonded to the teeth that are then anchored, usually to back teeth. The orthodontist uses elastics or springs as well as possibly incrementally tightening of the wire against the anchors. These techniques create pressure or tension on the teeth for the desired direction of movement. The teeth's natural mechanism for movement does the rest.
But while effective, braces can be quite noticeable, an embarrassing thought for many adults having to wear them over several months of treatment. But there may be an alternative: clear aligners, a succession of slightly different plastic trays usually worn in two-week intervals. Sequentially wearing each tray gradually moves the teeth to their desired positions.
Though not appropriate for all bite situations, clear aligners have a number of benefits when they can be used. They're nearly invisible to others and can be removed for hygiene tasks or rare special occasions. What's more, the orthodontist may attach a temporary prosthetic (false) tooth to the trays to camouflage the missing space during treatment.
There's one other issue you may have to deal with: if your tooth loss was related to periodontal (gum) disease, the gums and underlying bone may be in poor condition. In fact, substantial bone loss could rule out an implant altogether. But we may be able to remedy both gum and bone deficiencies through grafting or plastic surgery. It may be possible to regenerate enough bone to support the implant; and surgically repairing your gums will help ensure the implant appears natural.
If you have problems like these, don't give up on your restoration goal just yet. With some orthodontic and dental work ahead of time, we may still be able to make implants a reality for you.
If you would like more information on restoring your smile after losing teeth, please contact us or schedule an appointment for a consultation.